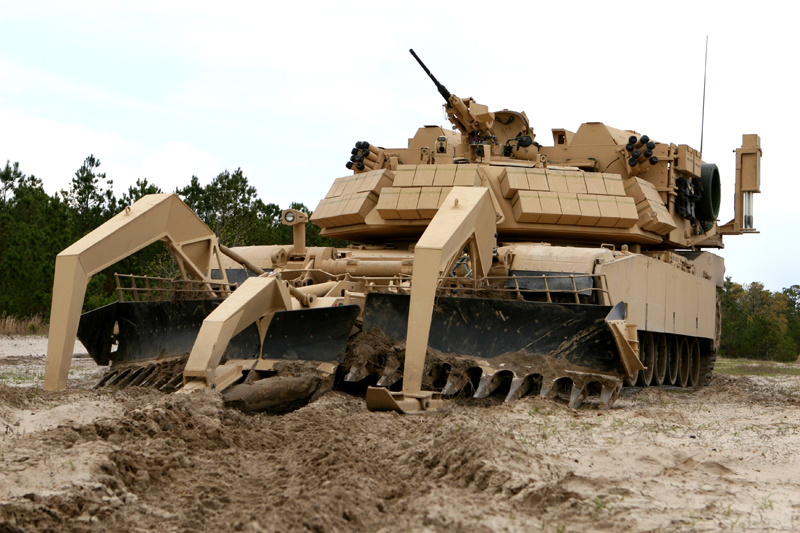 Pearson Engineering awarded contract to deliver additional M1 Abrams Assault Breacher Vehicle equipment for U.S. Army
Pearson Engineering has been awarded a contract to deliver further sets of Mine Breaching Equipment, including Full Width Mine Ploughs, Combat Dozer Blades and Lane Marker Systems for the U.S. Army Assault Breacher Vehicle Program.
The company has been a key supplier of equipment for the U.S. Assault Breacher Vehicle and has provided 155 sets of Breaching Equipment to the program to date. 105 sets have been supplied to the U.S. Army since 2008 and a further 50 sets have been supplied to the U.S. Marine Corps. A further 12 Full Width Mine Ploughs, 6 Combat Dozer Blades with associated High Lift Adaptors and Lane Marker Systems will be supplied as part of the new order.
The Assault Breacher Vehicle is part of the Heavy Brigade Combat Team and is designed to rapidly breach routes through minefields to create safe lanes for following forces. Based on a M1A1 Abrams main battle tank, the vehicle includes interchangeable Front End Equipment from Pearson Engineering providing the Commander with the ability to optimise the role of the vehicle, be it minefield breaching or obstacle reduction, delivering Assured Mobility Support to the full spectrum of combat operations.
The Assault Breacher Vehicle, including the operation of the Pearson Engineering equipment has the ability to be fully remotely controlled and operated at distance if required.
The first sets of equipment will be supplied to the U.S. Army in November 2014 and deliveries will continue until April 2015.
Technical Director, Randall Flack said "The Assault Breacher Vehicle has recently seen service supporting Counter Insurgency combat operations in theatre and has performed a key role in providing the type of Assured Mobility Support that allows Commanders to manoeuvre where they choose and at the time of their choosing. Commanders on the ground say that it provides better protection than the equipment they are currently using, or have been using and that it reduces the number of vehicles at the point of breach. It has much more survivability and reduces the requirement for the number of troops on the ground so the troops that are unprotected are actually not needed anymore."