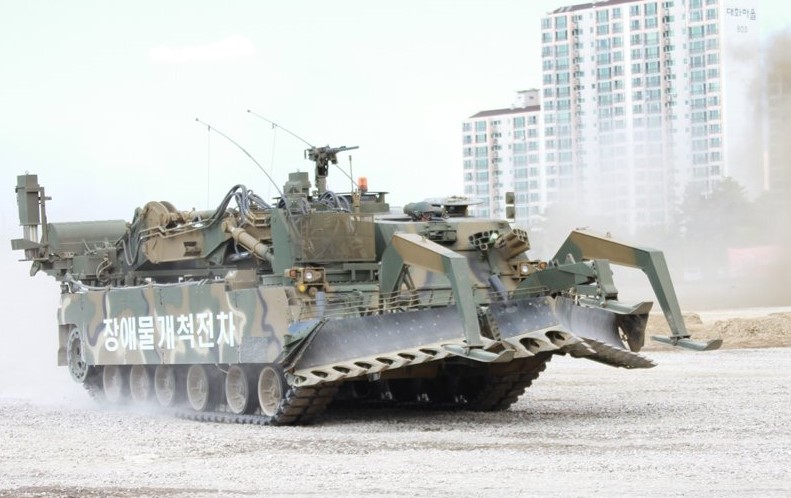 K600 Korean Combat Engineering Vehicle trials receive General Purpose Blade from Pearson Engineering
K600 Korean Combat Engineering Vehicle trials receive General Purpose Blade from Pearson Engineering
Pearson Engineering has sent a General Purpose Blade to the Republic of South Korea for evaluation as part of ongoing K600 Korean Combat Engineering Vehicles (KCEV) trials in collaboration with Hyundai Rotem.
The KCEV is designed to provide battlefield mobility for friendly forces and counter-mobility for enemy forces.  It has the capability to perform a range of battlefield construction and demolition tasks; including clearing obstacles and mines, conducting breaching operations and preparing defensive positions for artillery and combat vehicles.
Already equipped with a Route Opening Mine Plough (or Full Width Mine Plough as it is commonly known), as well as with a Magnetic Signature Duplicator and Obstacle Marking System from Pearson Engineering, the KCEV is well-equipped for minefield breaching activities. The equipment has already been evaluated in prototype trials by the Republic of Korea Army (ROKA).
The General Purpose Blade will support an increase in KCEV's capability and is integrated using the existing Pearson Engineering Vehicle Integration Kit. The dozer blade will allow many of the construction tasks required of the vehicle to be undertaken more quickly.
The approach to 'Scalable Battlefield Mobility', as it is termed by Pearson Engineering, allows vehicles to be deployed in a particular role, and then to be quickly re-roled so as to undertake alternative tasks and missions. The same vehicle, or set of vehicles, can therefore easily perform minefield breaching, earth and obstacle movement, vehicle recovery and assault gap crossing according to mission requirements.